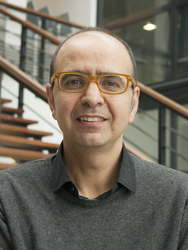 NIKAEIN Navid

EURECOM - Communication systems

professor

Navid.Nikaein@eurecom.fr

04 93 00 82 11

341
education
Navid Nikaein is an assistant professor in the Comunication systems department at Eurecom since 2009, where he is exploring ideas stem from experimental system research related to wireless access networking (L2/L3) in cellular, adhoc/mesh, and cloud settings with realistic use-cases.
In 2003, he obtained a PhD degree in communication systems from the Swiss Federal Institute of Technology Lausanne (EPFL)
In 2000, a M.Sc. degree in networking from Nice Sophia-Antipolis University
Navid Nikaein has defended his HDR (french appellation for "Habilitation à Diriger des Recherches") in 2015
Experience
Leading the development of in-lab system validation platform for LTE/LTE-A system as well as its mesh extension in the OpenAirInterface
Participating in technology transfer, continuing-education programs and training sessions, on behalf of Eurecom, on specific topics of interest in wireless networking and access technologies and standards.