As an extension to its worldwide teaching and research activities, EURECOM's policy is also to support startups created in its research labs. This policy has been reinforced significantly since the implementation in 2006 in Sophia Antipolis of Telecom ParisTech's incubator and its ensuing collaborative work within a new structure called "Telecom ParisTech EURECOM entrepreneurs".
Today, business entrepreneurs have greater support when skills are brought together in a single location. This collaboration has also further anchored the incubator structure in the region.
They created a successful startup!
Consulting and digital engineering for creative communication agencies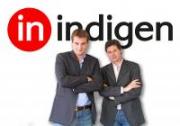 Created in 2003 by two 2002 graduates, Jérôme Clerico and David Pistori, Indigen is celebrating thirteen years of operation and technological innovation.
Through its personalized support, network of partners, scientific expertise, and legal and logistical assistance, EURECOM has been supporting the promising startup from the onset. Originally a software publisher, INDIGEN was able to develop technologically advanced tools, filing several patents in its first years. As client and partner of choice, EURECOM has always participated in the development of these tools.
In 2010, Indigen took a new course to focus on high-end digital engineering. The company is taking part in the design and development of intricate and prestigious Web platforms with a high degree of engineering skills. Some of their latest customers include Nespresso, Lancôme, Chanel, Orange, Intel, and Dior.