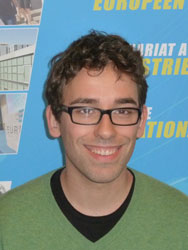 SOLDI Giovanni

EURECOM -

Giovanni.Soldi@eurecom.fr
education
Giovanni Soldi obtained his Bachelor's degree in September 2009 at Universita' degli Studi di Milano with specialization in Applied Mathematics.
He obtained his Master's degree in July 2011 after spending one year as exchange student at the department of Mathematical Statistics at Lund University (Sweden). His thesis is entitled "Wireless positioning using ellipsoidal constraints"  and was performed under the supervision of Professor Andreas Jakobsson.
In August 2011 he joined Qubulus, a startup in Malmo, provider of indoor positioning technologies  for mobile phones. In Qubulus, he was in charge of algorithms development in Java.
In February 2013 he moved to EURECOM and joined the Multimedia Communications Department as a Ph.D. candidate with TelecomParisTech. His supervisor is Nicholas Evans. His research interests are related to the field of speaker diarization and verification.