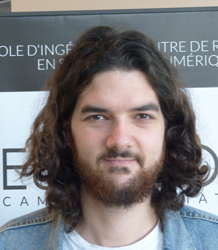 SCHLEIDER Thomas

EURECOM - Data Science

Doctoral student

Thomas.Schleider@eurecom.fr

04 93 00 81 11

421
education
In 2017, Thomas Schleider graduated with an MSc degree in IT & Cognition from the University of Copenhagen, Denmark. The title of his thesis was "E-mail subject line classification with Fasttext vectors", a Natural Language Processing (NLP) topic.
Currently, Thomas is a PhD student at the Data Science department of EURECOM in Sophia Antipolis, France under the supervision of Raphaël Troncy.
He is working on SILKNOW, an EU-funded H2020 project, specifically on Knowledge Modeling, Information Extraction and Semantic Web.
Thomas Schleider worked for 3.5 months as a student intern at Siemens Taiwan in Taipei City between 2014 and 2015.
He was a student assistant at Pfizer Denmark while he was a master student from 2015 to 2017.
In 2018 he worked full-time as NLP developer at the startup Omnio, Copenhagen, Denmark.