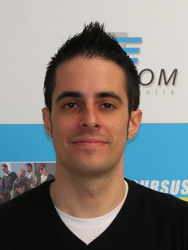 REDONDO GARCIA José Luis

EURECOM -

Jose-Luis.Redondo-Garcia@eurecom.fr
education
José Luis Redondo obtained a diploma in Computer Engineering from the University of Extremadura (Spain) in 2008, with specialization in the development of interactive applications in digital television.
He has a M.Sc. obtained within the Department of Computer Science and Telematics Systems, Polytechnic School, University of Extremadura (Spain). The title of his Master Thesis was: "Applying Linked Data Methodologies in a Television Content Management System".
He obtained a DEA in Information Systems Technologies from the University of Extremadura, Spain, titled as "Ontology Alignment for Improving the Access to Television Information in Linked data sources".
He worked as research assistant in the Quercus Software Engineering Group, at University of Extremadura, collaborating in the project (TIN2008-02985) from Spanish Ministry of Education and Science. He has also been supported by the research grant PD10006 from "Junta de Extremadura" during 12 months.
His research interests were focused on digital television, semantic web technologies, Linked Data methodologies, and information management systems.