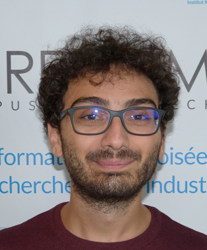 NISI Dario

EURECOM - Digital Security

Doctoral student

Dario.Nisi@eurecom.fr

04 93 00 82 76

370
education
Dario Nisi is currently a PhD student in the Software and System Security (S3) group at EURECOM, under the supervision of Professor Yanick Fratantonio.
His main research topic is Mobile Device Security with particular focus on malware detection and security enforcement.
He received his Double MSc Degree in Computer Engineering from Télécom-ParisTech and Politecnico di Torino and his BSc in Computer Engineering from Politecnico di Torino.
Before starting his PhD, Dario has worked with the S3 group for five months as a Research Engineer, focusing on the reverse engineering of embedded devices.