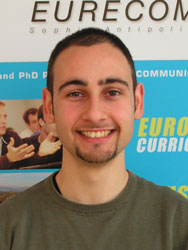 NEGRO Francesco

EURECOM -

Francesco.Negro@eurecom.fr

04 93 00 82 37
education
Francesco Negro received his Bachelor Degree form University of Lecce (Italy) in October 2006.
Subsequently, in November 2008, he received his Master of Science (M.Sc) in Telecommunication Engineering from Politecnico di Torino (Italy).
In May 2009 he joined the Department of Mobile Communications, EURECOM, as a PhD student under the supervision of Professor Dirk SLOCK .
His current research focuses on Signal Processing for Cognitive Radio.