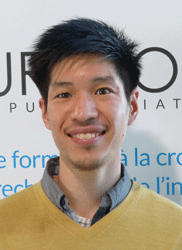 MITSUZAWA Kensuke

EURECOM - Data Science

doctoral student

Kensuke.Mitsuzawa@eurecom.fr

04 93 00 82 98

413
education
Kensuke Mitsuzawa is currently a PhD student at the Data Science Department at EURECOM - Sophia Antipolis, under the supervision of Professor Paolo Papotti and Co-supervisor Assistant Professor Motonobu Kanagawa.
In 2014, Kensuke obtained his M.E.'s Degree in Computer Science: Information Science at Nara Institute of Science and Technology. His research thesis entitled "Automatic classification on narratives with multi-lingual resource", was carried out under the supervision of Professor Yuji Matsumoto.
In 2012, he obtained his BA's Degree in the Department of Foreign Studies of Osaka University. His graduation project entitled "Computational linguistic analysis on Persian text for foreigners".