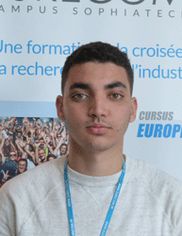 MEKKI Mohamed

EURECOM - Communication systems

doctoral student

Mohamed.Mekki@eurecom.fr

04 93 00 81 96

468
education
Mohamed MEKKI is currently a PhD student in the EURECOM Communication Systems Department, Sophia-Antipolis, France, under the supervision of Professor Adlen Ksentini.
In 2020, he received his engineering degree in computer systems from l'École Nationale Supérieure d'Informatique of Algiers (Algeria).
He did his final year internship at EURECOM entitled "End to end monitoring for 5G network slices" (jan 2020 - june 2020).