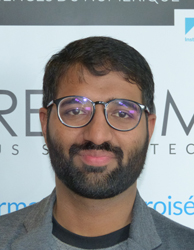 MALIK Adeel

EURECOM - Communication systems

doctoral student

Adeel.Malik@eurecom.fr

04 93 00 81 84

359
education
Adeel Malik received the B.S. degree in Electrical (Telecommunication) Engineering from the COMSAT Institute of Information and Technology, Pakistan, in 2013.
During 2014-2016, he worked as a research assistant with Dr. Jalaluddin Qureshi on Namal College funded research projects focusing on the construction of wireless transmission protocols.
In 2018, he graduated with an M.Sc. in Computer Science and Engineering from Dankook University, South Korea.
Currently, he is working at EURECOM's Duality project as a PhD student under the supervision of Prof. Petros Elia. His research focuses on content-centric wireless networks.