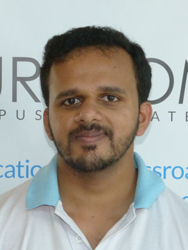 KURISUMMOOTTIL THOMAS Christo

EURECOM -

Christo.Kurisummoottil@eurecom.fr
education
Education and Work Experience
Christo Kurisummoottil is currently a PhD Student with EURECOM Communication Systems Department in Sophia-Antipolis, France, under the supervision of Professor Dirk Slock.
He received his master's in Telecommunication from the Indian Institute of Science, Bangalore, in 2012. His master's thesis was on "Signal Design using Optics for PIR based Intruder Detection and Classification in Wireless Sensor Networks" under the supervision of Prof. P Vijay Kumar. He received the Bachelor's in Electronics and Communication from NIT , Calicut.
From 2012 to 2014, he worked with Broadcom Communications, Bangalore, where he worked on the hardware development for the communication algorithms for 4G LTE in the Mobile and Wireless Group. After that , he worked at Intel Technology Pvt Ltd, Bangalore in the Connected Home Division Group. At Intel he worked on the algorithm development and implementation for the G.FAST DSL technology.