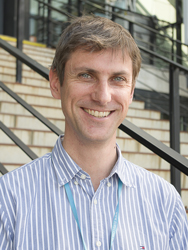 KALTENBERGER Florian

EURECOM - Communication systems

Professor classe 2

Florian.Kaltenberger@eurecom.fr

04 93 00 81 86

319
Current Research Topics
Software defined radio, OpenAirInterface, 5G radio access
Massive and distributed MIMO, exploitation of channel reciprocity
Current Research Interest
His research interests include signal processing for wireless communications, MIMO communication systems, receiver design and implementation, MIMO channel modeling and simulation, and hardware implementation issues.
Current Research Memberships
Florian Kaltenberger is currently EURECOM project leader and workpackage leader for the FP7 project SOLDER.
He is a member of the Network of Excellence in Wireless Communication (Newcom++) and the COST Action 2100 on Pervasive Mobile and Ambient Wireless Communications.
He is also a member of the IEEE and serves as a reviewer for several conferences and journals.