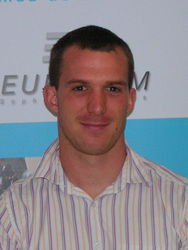 HOURS Hadrien

EURECOM -

Hadrien.Hours@eurecom.fr
education
Hadrien Hours was born in 1986 in Aix-en-Provence, France.
From September 2004 to July 2006, he did Mathematics, Physics and Engineering Science and Mathematics and Physics at the Ecole Preparatoire of Lycée Thiers, Marseille, France.
He joined Télécom Bretagne in September 2006 and did one Erasmus semester in the Facultad de Informatica de Madrid (Spain).
From 2008 to 2009, he worked for Bouygues Télécom (Aix en Provence, France) as an intern with Performances and Optimizations missions, along with Dimensioning and Architecture.
In 2009 he went back one semester to Télécom Bretagne and from March 2010 he attended the Networking Track in EURECOM.
He got his engineering diploma from Télécom Bretagne in 2011 for Engineer in Telecommunication in Networking Track.
He based his master thesis in Technicolor Paris Research Lab on House Automation: Energy Monitoring under the supervision of the Professor Ernst Biersack from EURECOM and Laurent Massoulié from Technicolor
He is now doing a PhD under the supervision of Professor Ernst Biersack which subject is Trouble Shooting on Web Browsing.