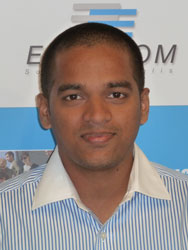 GUDUPUDI Leela

EURECOM -

Leela.Gudupudi@eurecom.fr
education
Leela Krishna GUDUPUDI was born in Vizianagaram, Andhra Pradesh, INDIA in 1988. He received his Bachelor's degree (B.Tech.) in Electronics and Communications Engineering from JNTU-K University in early 2009. During the final year of his B.Tech., he carried out an Internship in Indian Space Research Organization (ISRO). His Thesis entitled "Software for Image Data Conversion from TIFF to HDF".
Later he joined JNTUK-VZM University as a Teaching Assistant and taught "Microprocessor's and Interfaces" subject for pre-final year Bachelor's students over a period of 0.5 years.
In September 2009, he joined JNTU-H University as a Master's Student in Electrical Engineering. As a part of the Dual Degree Master's Program (DDMP), he came to Europe in early 2010 and after pursuing his studies, he received his Master's Degree in March 2012 from BTH University, Sweden with specialization in Signal Processing. His Master's Thesis entitled "Enhancement of Speech Intelligibility using Beamforming Techniques".
In May 2012, he joined INTEL Mobile Communications, France as a Research Trainee, where he worked on "Multi-microphone Speech Enhancement Techniques".
In February 2013, he joined Multimedia Department of EURECOM, France being a PhD student of Telecom ParisTech University. His supervisor is Nicholas Evans and his PhD is being fully sponsored by INTEL.
His research interests are:
Microphone array processing for speech enhancement, source separation, echo and feedback suppression
Nonlinear acoustic echo cancellation
Multi-channel de-reverberation and techniques