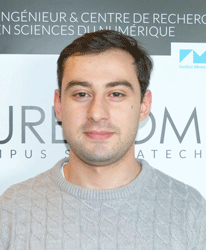 GOGOLASHVILI Davit

EURECOM - Data Science

doctoral student

Davit.Gogolashvili@eurecom.fr

04 93 00 81 79

412
education
Davit Gogolashvili is currently working at EURECOM in the project of the European Training Network WindMill (ETN) as a doctoral student under the supervision of Prof. Maurizio Filippone.
In 2016, Davit Gogolashvili obtained a master's degree in statistics from Tbilisi State University. He was mainly working on non-parametric methods and did his master thesis under supervision of Prof. Grigol Sokhadze and Prof. Elizbar Nadaraya. The title of his thesis is "On estimation of the two dimensional Bernoulli regression function".
He received his Bachelor's degree in Economics from Tbilisi State University in 2014.