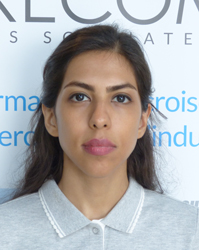 GHOLAMI Roya

EURECOM - Communication systems

Doctoral student

Roya.Gholami@eurecom.fr

04 93 00 82 84

416
education
Roya Gholami is currently a PhD student in the EURECOM Communication Systems group under the Supervision of Professor Dirk Slock. Her research interests are mainly Massive Distributed MIMO Systems, Signal Processing, and Stochastic Geometry.
After studying in field of Electrical Engineering Communication Systems at "Communication and Electronics Engineering" department of Shiraz University, Iran; She joined the "Communication Systems" department of EURECOM as a PhD student from July 2018. She is also an ESR in SPOTLIGHT project.
From 2010 to 2014, she was Bachelor student at Shiraz University.
From 2014 to 2017, she was Master student at Shiraz University and worked on MIMO-OFDM Systems, Coding Theory and Detection Theory.