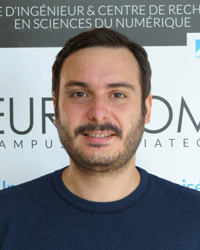 DOANIS Pavlos

EURECOM - Communication systems

doctoral student

Pavlos.Doanis@eurecom.fr

04 93 00 82 93

301
education
Pavlos DOANIS is currently a doctoral student in the Communication Systems department of EURECOM, Sophia-Antipolis, France, under the supervision of Professor Thrasyvoulos Spyropoulos. He is also an ESR in the SEMANTIC project.
He received his BSc degree in Physics (2015) and his MSc degree in Electronic Physics (Radioelectrology) with specialization in Electronic Telecommunications Technology (2019) from Aristotle University of Thessaloniki, Greece.
During 2018 he completed a 5-month research internship at Laboratoire Ampère, École Centrale de Lyon, France, entitled "Time Reversal processing for RFID systems". From January 2019 until May 2020 he was a research assistant at the Physics department of Aristotle University of Thessaloniki in the project entitled "Advancing Rational Exploitation of Water Irrigation Using 5G-IoT Capabilities".