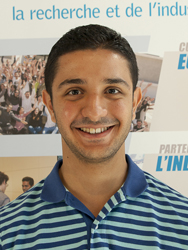 CUTAJAR Kurt

EURECOM -

Kurt.Cutajar@eurecom.fr
education
Kurt Cutajar is currently a PhD student in the Network and Security department of EURECOM in Sophia-Antipolis, France, under the supervision of Dr. Maurizio Filippone.
He received his Bachelor's degree in Computer Science and Artificial Intelligence from the University of Malta in 2014, and his thesis investigated the suitability of applying runtime verification to actor systems developed in Erlang.
Subsequently, he received a Master's degree in Data Science from the University of Glasgow in 2015, where he undertook his first work on Gaussian processes during his dissertation.
He will continue his research on Gaussian processes at EURECOM, with main focus on investigating the potential for scaling inference to large datasets.