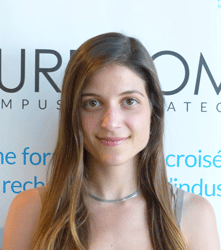 COSTANTINI Marina

EURECOM - Communication systems

doctoral student

Marina.Costantini@eurecom.fr

04 93 00 82 40

301
education
Marina Costantini is currently a PhD student in the Communication Systems department of EURECOM in Sophia-Antipolis, France, under the supervision of Professor Thrasyvoulos Spyropoulos.
Marina Costantini has taken her undergraduate degree (5-year Engineering Diploma) in Electrical Engineering at the National University of La Plata, Argentina and her MSc in Mobile Computing Systems at EURECOM.
In 2019 Marina Costantini joined Huawei Technologies for a 6-month internship in the topic of binary neural networks.