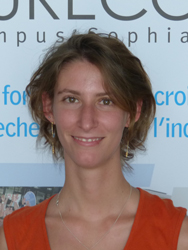 CHIESA Valeria

EURECOM -

Valeria.Chiesa@eurecom.fr
education
Valeria Chiesa is currently a PhD student in the MultimediaCommunications department of EURECOM in Sophia Antipolis, France, under the supervision of Professor Jean-Luc Dugelay.
She received both her Master's and Bachelor's degree in Mathematical Engineering from Politecnico di Milano in 2014 and 2011. Her Master's Thesis was carried out in cooperation between Politecnico di Milano and GipsaLab, a CNRS research unit joint with Grenoble-INP, Université Joseph Fourier and Université Stendhal.
Subject of her Master's Thesis was the creation and implementation of a system able to detect global modification in digital images.