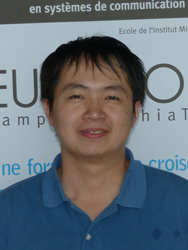 CHANG Chia-yu

EURECOM -

Chia-Yu.Chang@eurecom.fr
education
Chia-Yu Chang is currently a PhD student in Mobile Communication department of EURECOM in Sophia-Antipolis, France, under the supervision of Assistant Professor Navid Nikaein.
He received the B.S.E.E. and M.S. degrees from National Taiwan University(NTU), Taipei, Taiwan, in 2008 and 2010, respectively.
Before joining EURECOM in 2015, he has worked in MediaTek Inc. since 2010, where he served as a senior engineer and was in charge of 3G and 4G baseband communication system architecture and algorithm design.