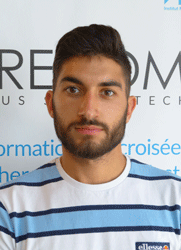 BERTHET Alexandre

EURECOM - Digital Security

Doctoral student

Alexandre.Berthet@eurecom.fr

04 93 00 82 68

371
education
Alexandre Berthet is currently PhD student in Digital Security at EURECOM – Sophia Antipolis since September 2019, with Professor Jean-Luc Dugelay as supervisor, working on DEFACTO project, whose subject is "Digital Image Forensics with Deep Learning".
In 2019, Alexandre graduated his Master's degree in « Sciences pour l'Ingénieur »,  specialization in « Ingénierie de l'Informatique Industrielle et de l'Image », at Sorbonne Université – Faculté des Sciences (ex Pierre et Marie Curie) in apprenticeship as a Data Scientist Junior at IBM France.
During his Master's project, Alexandre worked in collaboration with EFREI Paris (Digital Engineers School) and Sorbonne Université – Faculté des Sciences, on the realization of an intelligent system for automated data collect on an apiary. The proof of concept made by Alexandre is integrated in the project projet « PNAPI » (Plateforme Numérique d'accompagnement des APIculteurs », laureate of CASDAR RT 2018.
During his first Master's year, Alexandre worked in Laboratoire d'Informatique de Paris 6 (LIP6), in SoC department (Système On Chip) and more specifically in SYEL team (Systèmes Electronique). He contributed on SpinalCOM project, under Sylvain Feruglio's direction via the realization of spectral discrimination's methods of an optical sensor CMOS for the spinal cord's monitoring.