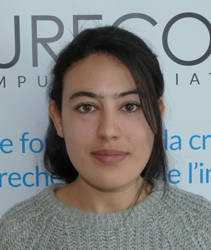 BEN SAAD Sabra

EURECOM - Communication systems

doctoral student

sabra.ben-saad@eurecom.fr

04 93 00 81 49

468
education
Sabra BEN SAAD currently works at EURECOM on the project "Security architectures for network slice management for 5G and beyond" as a PhD student under the supervision of Professor Adlen KSENTINI, Communication Systems Department.
From January to October 2019, Sabra BEN SAADworked at OBS Consulting, as an SAP consultant in Paris.
From August 2015 to October 2018, Sabra BEN SAADstudied at Telecommunications Engineering at SUP'COM, higher communication school of Tunis, Ariana in Tunisia and from August 2013 to June 2015, as undergraduate engineering student at IPEIM (Specialty: Chemistry-Physics), Preparatory Institute for Engineering Studies of Monastir in Tunisia.