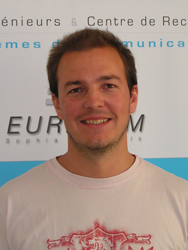 ALEGRE Federico

EURECOM -

Federico.Alegre@eurecom.fr
education
Federico Leonardo Alegre was born in General Roca (Argentina) in 1980. He obtained his Electronic Engineer degree in 2005 at Universidad Nacional del Comahue (UNCo), Argentina; with specialization in control, artificial intelligence and signal processing. His thesis is entitled "Application of ANN and HMM to Automatic Speaker Verification".
In September 2008, he came to Europe as a part of the program EMARO - European Master on Advanced Robotics - and got his double-diploma in September 2010 after pursuing his studies at Ecole Centrale de Nantes (ECN), France; and at Politechnika Warszawa (WUT), Poland. He also carried out an internship at University of Genoa (UNIGE), Italy, in the late 2010.
In February 2011 he moved to EURECOM and joined the Multimedia Communications Department as a Ph.D. candidate with TelecomParisTech. His supervisor is Nicholas Evans. His research interests are related to developments of countermeasures against spoofing attacks for biometric speaker recognition systems, as a part of the TABULA RASA European Project. He also collaborates in the European Project ALIAS.