| | |
| --- | --- |
| Live from EURECOM - October 2013 | 23-10-2013 |
Inauguration of the SophiaTech Campus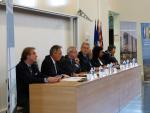 Financed through a State-Region Project Contract (Contrat de Projet Etat Région 2007-2013), the SophiaTech Campus has been home to more than 2,500 EURECOM and Nice Sophia Antipolis University students since September 2012. The inauguration of the new buildings took place on October 3 with many personalities attending. With key players of higher education and research (Inria, Inra, Cnrs, Mines ParisTech, University of Nice Sophia Antipolis, and EURECOM) on one site, the Campus will foster synergies and exchanges. Also speaking on behalf of Jean-Claude Jeanneret, General Director of Institut Mines Télécom, Ulrich Finger expressed EURECOM's desire to play its full part in this new center of excellence. As part of forward-looking investments, the Campus partners presented their project which received the Labex ("Laboratoire d'Excellence") label.
video of the inauguration

First graduation class for the SophiaTech Campus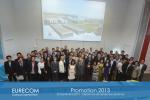 On September 20, EURECOM students, parents, faculty members and partners gathered for the 21st Graduation Ceremony under the sponsorship of Eric Ciotti, President of the Alpes Maritimes General Council. This local agency has been supporting EURECOM since its early days at the CICA until today through its key contribution in funding the Campus. By sponsoring the event, the Council demonstrated its long-standing commitment to higher education and research in the region.
The graduates were happy to be together again after completing their six-month engineering internship. With 21 nationalities and diverse backgrounds, the group also illustrates the numerous academic partnerships that EURECOM set up with renowned universities around the world.
photos of the ceremony

Richard Stallman, advocate for open software, speaks at EURECOM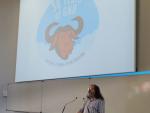 The GNU project, initiated by Richard Stallman, celebrated its 30th anniversary last September. Invited by Telecom ParisTech and EURECOM, the President of the Free Software Foundation, a key activist for an ethical and rational use of information technologies, addressed more than 260 guests about a "free digital society".
Photo album of the conference - Video of Richard Stallman's speech

Back to school!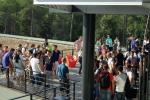 On September 23, 123 new students enrolled in the Master's program started their year at EURECOM. They all come from different backgrounds, testimony of the numerous paths to enter EURECOM: Telecom ParisTech students who passed the common admission test (26.7%), Institut Mines Telecom students (22.8%), foreign university students (25.2%) and international Masters students (17.8%). This academic year is also the first one for the students of the new engineering specialty degree (7.3%). Welcome to this new group who joined the hundred or so students of the 2014 Class for a very multicultural and friendly integration program.

"Les midis de la Science"
As part of the "Fête de la Science" celebration on September 9-13, EURECOM organized conferences and meeting opportunities with researchers for the public at large and the Campus students. Many thanks to all the scientists who participated!
| | | | | |
| --- | --- | --- | --- | --- |
| | | | | |
| "Science to the rescue of mobile communications" By Prof. David Gesbert, EURECOM Mobile Communications Dept. | "Hardware security" By Prof. Renaud Pacalet, System on Chip lab, Télécom ParisTech | "Kinect imaging-Beyong gaming" by Prof. Jean-Luc Dugelay, EURECOM Multimedia Communications Dept. | "Mobile M2M Services towards Internet of Things" Presented by Soumia Kanti Datta, Doctoral student, EURECOM Mobile Communications Dept. | "Satellite systems for large commercial public services" Presented by Laura Cottatellucci, Assistant-Professor, EURECOM Mobiles Communications Dept. |
Conect, Medieval, Tabula Rasa, rated Excellent projects
The European Community auditors rated as Excellent the MEDIEVAL project during their final review at EURECOM on October 11. The project focuses on multimedia transport for mobile video applications in tomorrow's Internet networks. EURECOM brought its expertise in heterogeneous access networks and mobility as well as its OpenAirInterface platform to emulate 4G networks.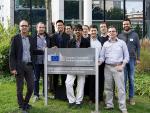 The CONECT project received the same praise during its final review on September 26 in Brussels. CONECT considers the architecture of wireless networks from a global standpoint to further enhance radio performance for multicast video transmission. The team was encouraged by the EU auditors to pursue its work with CONECT +. The flagship project will be proposed as a success story for the revolutionary nature of the research and used in European promotional literature.

And TABULA RASA, which aims at optimizing the reliability of biometric systems, has just been labeled as a "success story" by the European Commission. For Ryan Heath, EU spokesperson for the digital strategy, "It is important to know that we can rely entirely on the biometric systems which protect our personal data in our smart phones and tablets. The European Union welcomes the success of TABULA RASA. No other research team working on this field has reached such results".
Find out more on the TABULA RASA consortium | Read the press release
Special thanks to EURECOM's research teams for their work, and congratulations to the MEDIEVAL, CONECT and TABULA RASA teams.

DRONE4U—Inland navigation software for drones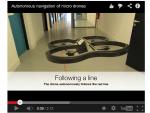 Drone4U is a collaborative project carried out by the Comelect team of Télécom ParisTech and EURECOM. Their objective is to develop navigation technologies for large-scale mini-drones so they can analyze their environment and become autonomous. These mini-drones can then be used for diverse missions such as guiding a person in a complex site or the inspection of a damaged building after a disaster. The Drone4U project is of utmost interest to industrialists.
TUM BMW Summer School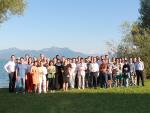 The TUM BMW summer school was co-organized by EURECOM and its partners, the R&D Division of BMW and the Technical University of Munich. It also benefited from the support of the Labex UCN@Sophia lab, the French-Bavarian University Cooperation Center, and University Cooperation Office. Centered on the "Smart Mobility 2020" project, the summer school took place between July 23 and 27 on the island of Chiemsee in Bavaria.
About thirty doctoral students and Master's students from France and Germany attended the sessions led by a dozen industrial and academic experts in the automotive and ICT sectors. BMW R&D's director set out his views on tomorrow's "connected vehicle" and its role in intelligent mobility. His comments were reaffirmed by the director of the French-Bavarian University Cooperation Center and past president of the Technical University of Munich who also called for greater interaction between the industrial and academic world in this area. During the event, the French vice-consul in Munich spoke about the importance of cooperation between both countries and the interest of France in the topic of Smart Mobility.

IWE, an innovative company partnering with EURECOM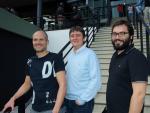 IWE is a medium-size business created in 2013. Located in EURECOM's premises, the company develops business software with an emphasis on Smart Business Process Management. The R&D team led by Christophe Laye is made up of three engineers. The platform developed by IWE can design and supply collaborative applications dedicated to the management (definition/execution/optimization) of knowledge corporate processes. Collaboration with EURECOM focuses on data indexing, ontologies and data security.

They successfully defended their theses!
• Wael GUIBENE, on July 2, on "Contributions to the Sensing spectrum and cognitive radio"
• Imran LATIF, on August 28, on "Methodologies for large-scale system evaluation with LTE system applications"
• Tania VILLA TRAPALA, on September 26, on "Dynamic resource allocation in cellular networks with interference"

Accreditation to supervise research

Pietro Michiardi defended his HDR (french accreditation to supervise research) on July 22 on the following topic: "Scalable Data Management Systems: distribution, storage and processing of large amounts of data"
This accreditation validates a candidate's high scientific level and his/her original approach toward a scientific domain, ability to master a research strategy in a scientific or technological domain and capacity to direct young researchers".