Student exchange programs (ERASMUS + and Mobility agreements)
In order to study at EURECOM as an ExchangeStudent, you must be enrolled at a partner university
Partner universities for the ERASMUS + program:
Chalmers University of Technology, Czech Technical University, Politecnico di Torino, Technische Universität München, Technische Universität Darmstadt, Norwegian University of Science and Technology, Aalto University, Tallinn University of Technology, UPC Barcelona, University of Zagreb, Johannes Kepler University Linz, University of Konstanz, Higher School of Economics (Russia, until May 2017).
Partner Universities for mobility exchanges:
Higher School of Economics - Moscow (Russia), Innopolis University (Russia), Telkom (Indonesia), IT BANDUNG (Indonesia), Multimedia University (Malaysia), HKUST (Hong Kong), SUPCOM (Tunisia), BUPT (China), ETH Zurich (Switzerland).
Ecxhange studies via TELECOMPARISTECH- campus Sophia Antipolis EURECOM
EURECOM also welcomes Exchange Students admitted via TelecomParistech's agreements. Students need to follow a distinct application process to apply to double degree/ Exchange program via TELECOMPARISTECH, please refer to the website of TelecomParistech for more information.
Course catalogue:
Exchange students choose classes relevant to their home degree program which should be approved by their home university.
All the courses taught at EURECOM are open to exchange students (both Technical and Non Technical courses) and TAUGHT IN ENGLISH. Exchange students can also take foreign language courses (up to 2 languages among which French). They are free to choose any courses they want in accordance with their home university.
Catalogue of available courses. Please be aware that courses available in this list may be overlapping. The final schedule is usually known several days before the start of the academic year.
Please be aware that, as a Graduate School, EURECOM only teaches at MASTER's level and does not provide Undergraduate courses.
Application process:
For all other applications, please fill the following online form (choose "ERASMUS Student exchange" or "Mobility student" in the list) and upload the following documents:
CV
Copy of your ID / passport
Statement of purpose / motivation letter
Official transcript of records in English
English language certificate or a letter written by the university stating that the student has sufficient skills in English.
Please note that ERASMUS and mobility applications to EURECOM have to be made online only, hard copies are not required.
Deadlines:
- Fall semester: 15 May 2017
- Spring semester: 13 November 2016
Language of instruction:
The language of instruction is English. There is no prerequisite in French language. Students can take French classes during their exchange period.
Credits and Grades
A set number of credits are granted for each type of course (classes, project or professional thesis).To receive credits, students need to take an examination and obtain at least 10/20.
The grading scale for the courses is as follows:
18 - 20 Excellent
16 – 17.5 Very good
14 – 15.5 Good
12 – 13.5 Satisfactory
10 – 11.5 Correct
0 – 9.5 Fail

If your grade is minimum 10 and above, you get the maximum number of credit allocated to the course. Grade 0 to 9.5 means you have not passed the examination and do you not get any credit. Examinations can be retaken during a specific period. The final grade of the course can be based on a final examination, or it can be based on a combination of a final examination and course work. At the beginning of each course, professors explain how students will be evaluated. Students have to register to each specific course at the beginning of each term to be able to take the examination.
All information regarding the organisation of the curriculum (assessement, schedule...) will be delivered during the "ORIENTATION DAY" before the start of each semester.
Erasmus + programme

ERASMUS' charter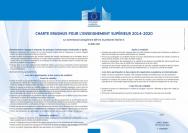 EURECOM' s International Strategy
Contact
erasmus [at] eurecom [dot] fr
Testimony

EURECOM offers a wide range of lectures on advanced topics in the fields of communication systems, which are presented in a unique and highly interesting way.
Beside the educational aspect, the greatest asset of EURECOM is its location in the Côte d'Azur. Hence, there are a lot of places to visit and things to do – it simply won't become boring near such famous towns like Nice, Cannes and Antibes. Additionally, EURECOM provides a great community between the students as well as the university staff. You will meet a lot of interesting people from all over the world. In short, this creates a very pleasant atmosphere at EURECOM.
Therefore, if you are thinking about studying at EURECOM, I would highly encourage you to do it. It gives you the unique chance to open your mind and become a little bit more international. I promise you, you will have a great time !
D. Bartel, class of 2014