ICT Campus
ICT Campus: Research and teaching in support of innovation
An opportunity for research

EURECOM was actively involved
in all phases of the design to defend the 'campus spirit'."
Catherine Betrancourt, general secretary
Participating in the creation of a campus in Sophia Antipolis with partners such as UNS, INRIA and CNRS is a wonderful opportunity to see pedagogical and research projects grow from cooperation with these renowned institutions.
Teacher exchanges, resource exchanges, creation of common masters, and joint organization of events will drive this very current notion of bringing institutions closer to each other.
While each institution will keep its identity and specificities, the size of the ICT campus should give it better international exposure and attract visitors, students and businesses to Sophia Antipolis. The proximity in one single site of post-graduate to doctoral students will undoubtedly create the long-awaited activity in the science park.
EURECOM expects its move into the campus will contribute to its development for the next 10 years.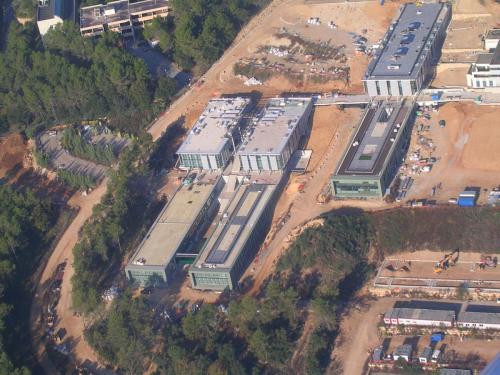 Dedicated infrastructures
For EURECOM, the ICT campus is primarily a real estate project with a view to anchor the school in a location designed specifically for its activity.
The 4,892 m² building wil be located at the South entrance of the campus and will include five levels, one entirely dedicated to teaching, and another more secured to research labs. The building will also boat a 200 set amphitheater.
The key functional principles of the interior architecture were laid out by an internal working group with the following goals: to enhance staff integration and cooperation between the various teams, to ensure future scalability of the offices, and to manage user flow.

A GLOBAL BUDGET OF € 73,3 m
mostly financed by the Conseil général des Alpes-Maritimes, the contractor, the French government, the Conseil régional Provence-Alpes-Côte d'Azur and the Sophia Antipolis community.
A campus built on 14.5 Hectares and 18 300 m2 of which:
4 892 m2 for EURECOM,
4 145 m2 for POLYTECH (University of Nice Sophia Antipolis),
1 935 m2 for the research cluster and
1 148 m2 for the library.

EURECOM's building (property of Institut Télécom) represents 4,892 m2 of office space on 5 levels.
1st level: administration and teaching,
2nd level: teaching,
3rd level: common space,
4th and 5th levels: research.