VISA AND RESIDENT PERMIT TO STUDY IN FRANCE (non EU students)
Students from an European Union or European Economic Area country do not need a visa to stay in France (UE countries + Norway + Switzerland).
Non EU students need a student resident permit to be allowed to stay on the French territory for the duration of their studies and follow these steps:
1. You need to apply for an extended-stay visas with residency permit with the nearest French consulate.
If you are from one of these countries listed in the following link, you will need to follow the CampusFrance procedure to obtain a long term visa. If so, please follow the instructions described on the CampusFrance's website of your country.
Please remember to communicate your CampusFrance account number to admission@eurecom.fr once your online file is validated so that EURECOM managers can validate your account as well.
If your country is not listed, it means you only need to submit your visa application to the nearest Consulate.
2. The consulate will give you an official form (with instructions).
This document is essential as you will have to present it to the French office of immigration and integration (OFII) after your arrival.
3. Your visa needs to be stamped by the customs authorities once you enter the European Union territory so that the date of entry in France is clearly marked.
4. Upon arrival, EURECOM will sent a copy of your passport / visa and the form provided by the consulate to the OFII (French office of immigration and integration).
Upon receipt of these documents, the local office of the OFII will send you by regular mail to your address France a letter acknowledging receipt of the form and invitation for a compulsory medical examination which will take place within three months.
5. Medical examination at OFII:
This procedure is compulsory to validate the resident permit. You will need to go will the following documents:
your passport provided with the adequate visa
a photo of face (please respect the format imposed by the prefecture;
a proof of address which has your name on it (renting contract, rent proof of payment, electricity bill)
fiscal stamps of 55 euros (that you can buy on the site to www.timbresofii.fr)
After the medical visit, your visa will be stamped and an OFII sticker will be put on your passport.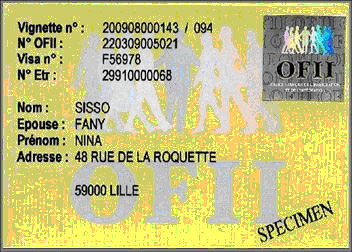 Your visa becomes then valid as a "student resident permit" for a period of 12 months beginning from your date of entry in the EU.
6. Renewal of the resident permit
At the end of the first year of studies in France, you will have to request a renewal of the permit with the Prefecture of your place of residence two months before the expiration of your visa.
The list of documents to prepare, as well as the form are in the office of your Social Affairs Officer.
About 2 weeks after your application, the Social Affairs Officer will send you an email asking you to come and take your "récépissé" (temporary Residence Permit) at the PREFECTURE which is valid for 3 months.
About 2 to 3 months later, you will receive another email asking you to pick up your new Residence Permit at the "Préfecture".
AFTER GRADUATION
International students graduating from a French university with a master's level and higher can apply to the "AUTORISATION PROVISOIRE DE SEJOUR" (APS). This document will allow you to stay up to 12 months in France to look for a job.
The APS should be requested within 2 months before the expiration of your current resident permit (please note that you cannot apply to APS with a "récépissé", you need to have a valid resident permit when you apply).
You will need to send by post several documents to the prefecture close to your location. Upon receipt of the documents, the Préfecture sends you an invitation to an appointment after you graduate.
After graduation, you will need to book an appointment online and bring the final certifcate of completion of studies provided by EURECOM to receive your APS.