Home
The 25th International ITG Workshop on Smart Antennas (WSA 2021) provides a forum for presenting and discussing research results on smart antennas, spanning theoretical analyses as well as technical and implementation aspects, in modern wireless communications.
For the first time, the Workshop on Smart Antennas will take place in the heart of the world renown "French Riviera" (Côte d'Azur in French), and it will be hosted at EURECOM.
Fall 2021 OpenAirInterface Workshop: Hands-On with the OAI Architects".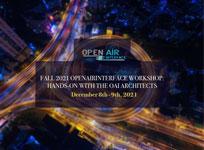 The Fall 2021 Workshop is a hands-on event to teach how to use and contribute to all three projects.Here are some of the exciting things you can expect to learn at the OAI 2021 Fall workshop:
5G RAN: build/run gNB + build L2-simulator including nfapi and channel proxy + build CU/DU
5G CN:  FDQN vs fix IP address + SPHW-U vs VPP-based UPF flavor + slicing (1 AMF, 2 SMFs, 2 UPFs)
Mosaic5G: deployment of end to end OAI + use & development of Xapps for Flex CN & Flex RIC
The 22nd IEEE International Workshop on Signal Processing Advances in Wireless Communications (SPAWC) will be a fully-virtual conference.to September 27‐30, 2021, with the aim of having a physical conference, rich of interactions as in the successful spirit of SPAWC.
SPAWC, the flagship workshop of the Signal Processing for Wireless Communications and Networking Technical Committee (SPCOM‐TC) of the IEEE Signal Processing Society, aims to bring together researchers in signal processing, wireless communications, information theory, and optimization from both academia and industry.

This PhD thesis contributes initially to the French FUI…
The Digital Security Department of EURECOM invites applications for a tenured position at the Assistant Professor level…