STUDENT ASSOCIATION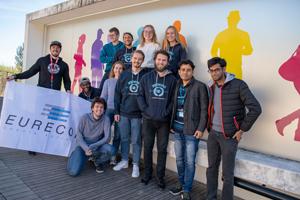 The Student Association (Bureau des Elèves) is made up of 14 students (11 for the BDE and 3 for the BDS) representing the home institutions of EURECOM's students. The board is elected by students for one year after an event-filled campaign.
The association has an office on the EURECOM premises, and students may also use one of the meeting rooms. With its two foosball games and a billard, students gather to organize events such as cinema nights or breakfasts.
The Student Association allocates funds to the various school clubs which it receives in the form of grants with the exception of the Junior Enterprise Association which operates with its own funds.
Its objectives
To represent students to the School Board
To welcome new students
To organize student activities through its clubs
To manage the budget
The association is also a link between students and the administration.
Its three main activities
To organize annual student trip 
To organize the graduation ceremony
To organize the Freshers' Weekend 
HOW TO CONTACT THEM
BDE EURECOM
CS 50193 - 450 Route des Chappes
F-06904 Biot Sophia Antipolis
Tél.:+33.(0)4.93.00.82.21.
bureau.bde@eurecom.fr