Home
The 25th International ITG Workshop on Smart Antennas (WSA 2021) provides a forum for presenting and discussing research results on smart antennas, spanning theoretical analyses as well as technical and implementation aspects, in modern wireless communications.
For the first time, the Workshop on Smart Antennas will take place in the heart of the world renown "French Riviera" (Côte d'Azur in French), and it will be hosted at EURECOM.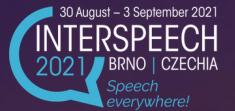 INTERSPEECH is the world's largest and most comprehensive conference on the science and technology of spoken language processing. INTERSPEECH conferences emphasize interdisciplinary approaches addressing all aspects of speech science and technology, ranging from basic theories to advanced applications.
The theme of INTERSPEECH 2021 held in Brno, Czechia, is "Speech everywhere". Speech is also becoming an indispensable part of all  AI systems and no longer considered an isolated block. We are seeing the emergence of larger systems that treat speech, vision, language, interfaces, external knowledge in an integrated way, and learn multi-modal embeddings, or otherwise jointly optimize performance. "Speech everywhere" also requires speech engineering to become more aware of the principles of human speech communication processes, and we therefore specifically encourage contributions in human speech processing.
The 22nd IEEE International Workshop on Signal Processing Advances in Wireless Communications (SPAWC) will be a fully-virtual conference.to September 27‐30, 2021, with the aim of having a physical conference, rich of interactions as in the successful spirit of SPAWC.
SPAWC, the flagship workshop of the Signal Processing for Wireless Communications and Networking Technical Committee (SPCOM‐TC) of the IEEE Signal Processing Society, aims to bring together researchers in signal processing, wireless communications, information theory, and optimization from both academia and industry.

This PhD thesis contributes initially to the French FUI…
The Digital Security Department of EURECOM invites applications for a tenured position at the Assistant Professor level…