Master "Security and Cloud Computing" (SECCLO - Erasmus Mundus)
EURECOM is proud to be part of a high profile ERASMUS MUNDUS Joint Master's program - SECCLO.
SECCLO-Master's programme in Security and Cloud Computing (120 ECTS) is a two-year engineering programme which gives students a broad understanding of the latest and future technologies for secure cloud and mobile computing systems.
Students will gain both practical engineering knowledge and theoretical insights into secure systems engineering, distributed application development, network and service architectures, and cloud and mobile platforms. SECCLO focuses on two specific aspects of modern computing systems: cloud computing, which in a broad sense means highly distributed and scalable computation and data storage in data centers as well as physically accessible devices, and information security, which means protection of computation, communication and data from unauthorized access.
The 120 ECTS credits will be divided into two blocks: two semesters of courses (60 ECTS) will be provided by the entry university Aalto.
The first year of the program at Aalto covers fundamental concepts, methods and the latest technologies on secure systems engineering, After the first year, the student move to their exit university where they are able to specialize (30 ECTS) in communications systems design (KTH), information security (NTNU), reliable distributed systems (DTU), cryptography (UT) or big data security (EURECOM). The fourth semester is dedicated to thesis research and writing (Master's thesis, 30 ECTS). Summer school and internship are included into the programme.
The programme leads into two national Master of Science degrees (double degree) from those universities where the student has completed his/her studies.
More Information on the website of the Master's program: http://secclo.aalto.fi/en/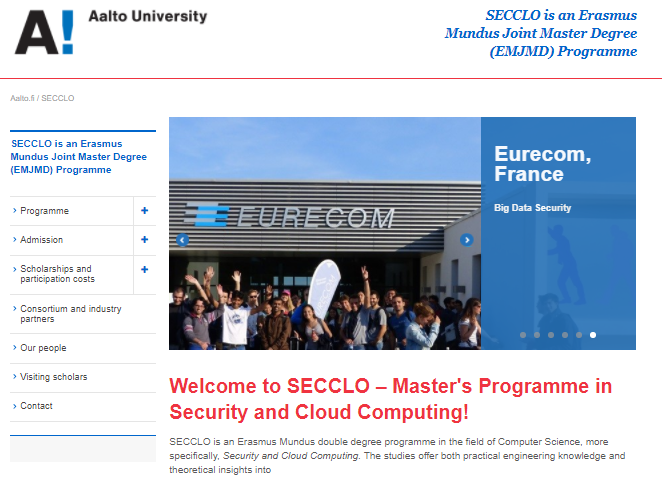 The universities participating to SECCLO-programme are:
Aalto University,Finland (coordinator)
EURECOM - France
KTH, Sweden
NTNU, Norway
DTU, Denmark
UT, Estonia
​