Why choose EURECOM
why did I choose EURECOM ?
"I'll strongly recommend spending a year at EURECOM to anyone, It was an educational and social experience I'll never forget! "
Kristoffer Sundøy – from NTNU
"Leaving Trondheim in mid February and arriving under the sun of Côte d'Azur is not only a remarkable change of climate, the EURECOM staff are also very helpful with all administrative tasks making the transition fast and easy.
Coming to campus you find yourself in a state of the art research driven environment; the professor / student ratio is one of the major differences to NTNU.
It is really cool to work with the professors that have written some of the most referenced articles and books in communication.
After class the student society takes care of your spare time in whatever extent you'd like! "
A PRIVILEGED ENVIRONMENT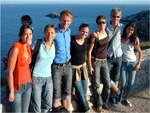 Diving, sailing, beach parties, skiing week-ends, rafting in the Verdon Gorges, and the simple pleasure of living in a place that enjoys 300 days of sun a year, only a two-hour flight away from Europe's largest capitals