Master in Data science and engineering
Applications for 2017-2019 Intake will be resumed in October 2016.
DESCRIPTION
The "Big Data" phenomenon is rooted in the field of data science and engineering, which aims at developing both computer and mathematical tools for data storage and processing. An increasing volume of data are daily produced by modern day industrial processes (in fields such as energy, intelligent transport systems, aviation industry and many others…), and fuelled by the rise of multimedia tools and the Internet of Things in our daily life.
The Master in Data Science and Engineering aims at combining computer and statistical sciences to develop cutting-edge and fundamental tools to efficiently address applied issues related to data processing. Beyond its importance in scientific research and industry, data analysis helps develop methods, algorithms and software able to extract value out of huge masses of heterogonous data with several dimensions. The curriculum offers a cohesive blend of technical classes in data mining, software engineering, distributed systems coupled with fundamentals in Business, Innovation and Project Management to develop profiles which are highly valued by corporate recruiters.
ADMISSION
Please refer to the application guide. Applications are to be made online. EURECOM does not charge application fees.
REQUIREMENTS:
A Bachelor's degree

(minimum 3 years of higher education) with high academic records in a relevant field is required: computer sciences, telecommunications, applied mathematics, electrical engineering...
A B2 level in English or equivalent is required. No prerequisite in French are expected as the courses are entirely taught in English.
COURSE DESCRIPTION
A flexible curriculum: Students need to validate a certain amount of credits per Teaching unit each semester, it means students can design their own curriculum by choosing the most relevant courses in the list below.
SEMESTER 1 FALL (OCTOBER-JANUARY)
Systems and mathematical methods
15

T

CompArch
Computer architecture
5.00

This course presents the architecture of microprocessor-based systems, from the internals of the processors themselves to the main peripherals that surround them and make a complete computing machine, capable of running operating systems like GNU/Linux, Android, Windows, iOS...

Teaching and Learning Methods : Lectures, team-work, lab sessions, mini-conferences by industrials

Course Policies : Attendance to the lab sessions and the mini-conferences is mandatory

T

G_Theory
Game Theory
3.00

This course is an introduction to game theory. Game theory studies interactions of "agents" whose objectives depend on others actions and not only theirs. It permits to model and understand many real-world strategic interactions, e.g., in economics.
This course introduces the main concepts of game theory (Nash equilibrium, etc.) and illustrates them with examples from economics, political sciences, computer science, engineering, etc.
The goal of this course is to present the basics of game theory in sufficient details to enable students to (i) feel the relevance of game theory to understand real world interactions and (ii) apply game theory to their own applications.
This course is followed by the Network Economics course which introduces more advanced game theory concepts and develops in details applications to economics of the Internet.

T

ImCod
Image Coding
3.00

Because multimedia data (in particular image and video) require efficient compression techniques in order to be stored and delivered, image and video compression is a crucial element of an effective communication system.

This course covers the most popular lossless and lossy formats, introduces the key techniques used in source coding, as well as appropriate objective/subjective metrics for visual quality evaluation.

Teaching and Learning Methods:

Each class includes a problem session for students to practice the material learned.

This course includes a limited number of lab session hours.

Course Policies: It is mandatory to attend lab. sessions.

T

ImProc
Digital Image Processing
3.00

The course aims at providing students with a basic knowledge and practice about the use of computer algorithms to perform image processing on digital images. The two main objectives attached to Digital Image Processing (DIP) are to improve the visual quality of images and to automatically extract semantic information from visual data (e.g. object recognition).

Teaching and Learning Methods: Each session is split into two parts: 1.5-hour lecture and 1.5-hour lab.

Course Policies: It is mandatory to attend lab. sessions.

T

InfoTheo
Information theory
5.00

Since 1948, the year of publication of Shannon's landmark paper "A mathematical theory of communications", Information theory has paved the ground for the most important developments of today's information/communication world making it perhaps the most important theoretical tool to understand the fundamentals of information technologies.
Information theory studies the ultimate theoretical limits of source coding and data compression, of channel coding and reliable communications via channels, and provides the guidelines for the development of practical signal-processing and coding algorithms.
This course covers Information theory at an introductory level.
The practical implications of theoretical results presented are put in evidence through examples.
Various perspectives are given to understand every single theoretical results from a intuitive point of view, regardless of your background or study track.

Teaching and Learning Methods : Lectures, Exercise and Lab sessions (group of 2 students)

Course Policies : Attendance to Lab session is mandatory (25% of final grade).

T

MathEng
Essential Mathematical Methods for Engineers
3.00

This course aims to present a treatment of mathematical methods suitable for engineering students who are interested in the rapidly advancing areas of signal analysis, processing, filtering and estimation. Significant current applications relate to speech and audio, music, wired and wireless communications, instrumentation, multimedia, radar, sonar, control, biomedicine, transport and navigation.
The course presents a study of analogue systems as a pre-requisite to material relating to sampled-data systems.
The objective is to assist the student in gaining confidence in working with the frequency or transform domain for the analysis or characterisation of signals and systems. The final part of the course aims to introduce at a more mathematical level the concepts of probability, random processes and the analysis of random signals, correlation and spectral density.

T

MMIR
Multimedia indexing and retrieval
3.00

While search engines such as Google are extremely efficient for huge databases of text documents, searching for image and video information is still a research challenge.
The objective of this course is to study some of the problems and techniques that are involved in the construction of multimedia search engines.

T

Netw_I
Introduction to computer networking and internet
5.00

This course provides a broad overview of computer networking, covering the application layer, transport layer, network layer, and link layers.
It covers basic concepts in computer networking as well as the prominent Internet protocols.
It is intended for students who have had no previous course in computer networking.

T

Optim
Fundamentals of Optimisation
3.00

Convex optimization is broadly applied to many technical and non-technical fields and provides a powerful set of tools for the design and analysis of communication systems and signal processing algorithms.
This course addresses basic concepts and main techniques in linear, non-linear and convex optimization.
Special emphasis is devoted to exemplify their applications to telecommunications problems with the objective of developing the skills and background needed to recognize, formulate, and solve optimization problems.
The course aims to introduce Eurecom students to fundamental concepts as duality and KKT conditions, widely utilized techniques as linear and geometric programming and unconstrained optimization algorithms, but also to more advanced techniques, which have been widely applied in wireless communications nowadays, namely, second order cone programming and semi definite programming.

T

OS
Operating systems
5.00

Would you like to investigate beyond the surface of Windows, MacOS, Linux, Android? Fed up with not understanding the origin of segmentation faults, why you need to eject a USB key before physically removing it, or why/how your Android system can execute Pokemon Go and Facebook at the same time? You want to delve into the details of the inner workings of the Linux kernel? Join us to discover the power of Operating Systems!

Teaching and Learning Methods : Lectures (40%), Lab sessions (40%), Project (20%)

Course Policies : Attendance to some lab and project session is mandatory

T

SecCom
Secure communications
5.00

This course provides a broad introduction to cryptography and communication security mechanisms based on cryptography. The course covers fundamental aspects such as security evaluation criteria and the mathematical constructs underlying cryptographic primitives as well as applied aspects like the design of major encryption and hashing algorithms, details of security mechanisms relying on cryptography such as data encryption, integrity, digital signature, authentication, key management, and public-key infrastructures.

T

Stat
Statistical data analysis
3.00

The goal of the course is to provide students with simple and efficient statistical methods to analyze data. Such methods are of crucial importance in many situations as they allow to answer questions such as: 'Is this performance improvement significant?', 'What is the uncertainty on that result?', 'How can I predict a new output of my system based on measurements?', 'Which factors have a significant impact on the performance of my system?', and many more.
Mathematical analysis underlying the presented methods will be sketched, but the main focus will be on the understanding of the methods and the situations in which they can be used (which method to use, what to expect, etc.).
The course will present generic methods working for data from any application and not a specific domain of application. Examples will be given in different areas (computer networks, engineering, etc.).

T

SysSec
System and Network Security
5.00

Internet security has become part of everyday life where security problems impact practical aspects of our lives. Even though there is a considerable corpus of knowledge about tools and techniques to protect networks, information about what are the actual vulnerabilities and how they are exploited is often not well understood. The course aims to make the students gain a basic understanding about real world security issues and countermeasures. Another of the goals of this course is to teach students to think as an attacker, this state of mind will later help to design secure systems and avoid common pitfalls.
The course introduces the students to all the basic concepts of system security in the areas of host, network, and web security. The class has a very practical spin. A number of challenge-like homework assignment are used to force the student to practice on the low level aspects of the concept presented during the lectures. Therefore, prior experience in basic programming (C) as well as knowledge of basic concepts in operating systems and networks is recommended.
The following topics are covered in this course:
Windows and Unix Security Basics
Race Conditions
Memory Corruption, Exploitation and Modern Countermeasures
Trusted Computing
Web Security
Wireless Security
Network Security
Testing for Security
Smartphones Security
Introduction to Malware

T

WebInt
Interaction Design and Development of Modern Web Applications
3.00

Human's computer interaction (HCI) is the study of interaction between people (users) and computers. It is often regarded as the intersection of computer science, behavioural sciences, design and several other fields of study.
In this course, we will focus on designing and evaluating interfaces for interacting with multimedia data on the web.
The main goal of this course is therefore to teach students how to sketch and build novel interactive systems without intensive programming and engineering knowledge, using simple tools, few trick and lots of imagination.

Fundamentals DSE
10

T

Clouds
Distributed Systems and Cloud Computing
5.00

The goal of this course is to provide a comprehensive view on recent topics and trends in distributed systems and cloud computing. We will discuss the software techniques employed to construct and program reliable, highly-scalable systems. We will also cover architecture design of modern datacenters and virtualization techniques that constitute a central topic of the cloud computing paradigm. The course is complemented by a number of lab sessions to get hands-on experience with Hadoop and the design of scalable algorithms with MapReduce.

Teaching and Learning Methods: Lectures and Lab sessions (group of 2 students)

Course Policies: Attendance to Lab session is mandatory.

T

MALIS
Machine Learning and Intelligent System
5.00

The objective of this course is to give students a solid background in Machine Learning techniques. "Machine learning is a scientific/engineering discipline that deals with the construction and study of algorithms that can learn from data. Such algorithms operate by building a model based on inputs and using that to make predictions or decisions, rather than following only explicitly programmed instructions." (Wikipedia) These techniques are used to build efficient models for problems for which an optimal solution is unknown. For example, Deep Networks have recently shown impressive performance in pattern recognition tasks (vision, language, speech).

This course will introduce the basic theories of Machine Learning, together with the most common families of classifiers and predictors. It will identify the basic ideas underlying the mechanism of learning, and will specify the practical problems that are encountered when applying these techniques, optimization, overfitting, validation, together with possible solutions to manage those difficulties.

Duration : 42 hours, including 9 hours of practise

Fundamental in Business, Innovation and Project Management (I)
5

G

Entrep
Entrepreneurship and Capital-Venture
3.00

This course is designed to familiarize students with the practices and underlying issues surrounding the creation of new economic activity (with or without the founding of new firms) and with the funding of such initiatives. This involves learning about the key decisions to be made by the entrepreneur and about her/his relationship with potential financiers of new ventures.

Teaching and Learning Methods: Lectures and class discussions based on articles or book excerpts.

Course Policies: Attendance at all Lecture and Tutorial sessions is mandatory.

G

GreenIT
Sustainable ICT's
3.00

This course provides an overview of the field of Sustainable Development as a way to address technology in its interconnection with environmental, social and political factors, in order to help students to be aware of the non-technical dimensions of innovation. It focuses on Green IT (that's ICTs designed or used to reduce the negative effects of human activities on the environment) and eco-design and provides some key concepts and tools related to Responsible innovation.

Teaching and Learning Methods:

The course has a participatory organization involving students in the classroom as well as at home. It comprises two film screenings followed by class discussions and in-class group work, and five teaching sessions. These sessions are held by guest lecturers (external experts from industry, research, consulting and public policy sphere) and followed by knowledge tests performed at the end of the class. At home, students are expected to work on weekly assignments (2-page reviews or reportsbased on readings or Web research).

Course Policies :Class presence is mandatory and attendance is taken at all sessions. Participation points are given to encourage students' active class participation and discussion.

G

Innov
Innovation & new product development
3.00

This course is designed to explain what innovation is, what are the forms and types of innovation and how works the process issuing to generation of improved or new products. It explores the frameworks and the models implied from creativity and research stimulation to development, industrialization and access to the market.

Teaching and learning methods

Mix of lectures, group works and discussions.

G

ManagIntro
Introduction to management
5.00

Most graduates aspire to enter management ; other find management thrust upon them. This course will introduce participants to the role and practice of management from the perspective of the new manager. Through lectures, exercises and case studies, participants will understand and experience some of what it is to be a manager today.

G

Property
Intellectual property law
3.00

This course provides a solid introduction to intellectual property law from a managerial and strategic perspective taking an international and comparative approach.

The course is the study of how companies protect innovations in order to create value for the company

Teaching and Learning Methods : Lectures and cases sessions (group of 4 students)

Course Policies : Attendance to Lab session is mandatory.

G

TeamLead
Personal Development and Team Leadership
5.00

The overall aim of the program is to enable the student to achieve their potential and increase the performance of both themselves and their team members, both now and in the future. The objectives are to gain the essential awareness and skills necessary to fulfil responsibilities as a member of a team and potential team leader. By the end of the program the participant will: Become more aware of personality types, peoples? preferences, needs, motivations, and strengths Understand you own preferences & needs, and develop multi-step career/life goals Appreciate cultural diversity within teams; understand the role of a team member and team leader Have received a range of tools to help the participant to perform well within a team, and in their life Get a bigger picture of how organizations and people learn and develop Develop a career/life plan that combines your strengths, needs, to create credibility to achieve goals
| Language | 1 |
| --- | --- |
| (French, or another language if the student is already fluent in French) | |
SEMESTER 2 SPRING (FEBRUARY-JUNE)
Applications (I)
10

T

3DGraph
3-D and virtual imaging (analysis and synthesis)
5.00

This course introduces the main concepts and techniques used in computer graphics and image synthesis. It focuses on 3D object modelling and advanced visualization methods used in 3D and Virtual imaging, scientific and information visualization, CAD, flight simulation, games, advertising and movie special effects. The courses mixes theoretical and practical sessions and the project requires a student personal involvement.

Teaching and Learning Methods :Lectures, Lab sessions and project (groups of 2 to 4 students)

Course Policies : It is mandatory to

Attend to all the Lab sessions
Deliver of a project movie and attend the project contest.

T

DSMWare
Distributed software and middleware
5.00

Middleware consists of the software and services on which a network application programmer relies that are provided on top of the network layer. The knowledge of distributed software design and the appropriate use of middleware are recognized as part of the software engineering culture in the industry, especially for Internet applications.
The goal of this course is to provide a broad overview of engineering techniques for the development of distributed software based on classical bare socket programming and on today's state-of-the-art middleware.
The course first describes how distributed software can be modularly designed using object-oriented techniques and design patterns. Object-oriented middleware platforms like CORBA, Java RMI, and EJB are then thoroughly described. Mobile code platforms, which provide a new form of middleware, are also introduced. Services and interfaces required for the deployment of these platforms are finally addressed.
The course will be accompanied by some significant design and programming labs.

T

Forensics
Cyber-crime and Computer Forensics
5.00

This course serves as a continuation of System and Network Security. The idea is to present different approaches to analyse and detect malware and to deal with compromised machines.
Because the class will feature a number of programming exercises, students are required to have programming experience.

T

FormalMet
FormalMethods-Formal specification and verification of systems
3.00

This course aims to give students the fundamentals of formal methods for specifying and verifying systems.
Emphasis is placed on practical use of the notions encountered.

T

ImSecu
Imaging for security applications watermarking & biometrics
3.00

Watermarking : Watermarking allows owners or providers to hide an invisible and robust message inside a digital Multimedia document, mainly for security purposes such as owner or content authentication. There is a complex trade-off between the different parameters : capacity, visibility and robustness.
Biometrics : The security fields uses three different types of authentication : something you know, something you have, ore something you are : a biometric. Common physical biometrics includes fingerprints, hand geometry ; and retina, iris or facial characteristics. Behavioural characters include signature, voice. Ultimately, the technologies could find their strongest role as intertwined and complementary pieces of a multifactor authentication system. In the future biometrics is seen playing a key role in enhancing security, residing in smart cards and supporting personalized Web e-commerce services. Personalization through person authentication is also very appealing in the consumer product area.
This course will focus on enabling technologies for Biometrics, with a particular emphasis on person verification and authentication based on or widely using image/video processing.

T

SecAppli
Security applications in networking and distributed systems
3.00

This course presents the main applications of secure communication mechanisms in the area of computer networks and distributed systems.

The course covers network security approaches based on firewalls, cryptographic security protocol suites designed for the data exchange and network control components of Internet, wireless security protocols, and security solutions for cellular and mobile network architectures.

T

Speech
Speech and audio processing
3.00

Give the students a general knowledge of the most important communication mode : speech.
Speech is used to communicate with machines this is speech recognition. Machine can generate artificial speech : this is speech synthesis. Speech must be compressed for two different reasons : reduce the memory required in storage systems and allow low bit rate transmission (f.i in GSM systems). Speech can also be used in biometrics : speaker identification and verification. In the media, speech and soundtracks as well as recorded work sessions can be automatically analyse and speech is a part of the indexing applications.

T

WebSem
An Introduction to Semantic Web technologies
3.00

The Semantic Web is an evolving extension of the World Wide Web in which the semantics of information and services on the web is defined, making it possible for the web to understand and satisfy the requests of people and machines to use the web content. It derives from W3C director Sir Tim Berners-Lee's vision of the Web as a universal medium for data, information, and knowledge exchange. This course is a guided tour for a number of W3C recommendations allowing to represent (RDF/S, OWL, SKOS, RIF), query (SPARQL) and extract (RDFa, GRDDL) knowledge on the web.
It aims at presenting the underlying logical formalisms of these languages, their syntax and semantics.
We will also present the problems of modelling and aligning ontologies on the web.
Finally, we will show how the linked data movement contributes to the so-called Web 3.0 vision.

Machine Learning
10

T

AML
Algorithmic Machine Learning
5.00

This course aims at providing a solid and practical algorithmic foundation to the design and use of scalable machine learning algorithms, with particular emphasis on the MapReduce programming model. Students will get familiar with a wide range of topics, through the application of theoretic ideas on problems of practical interest. This is a "reverse class", in which students are required to study (or revise) a particular topic at home, and apply what they have learned solving real world problems, including industrial applications, during numerous laboratory sessions. Laboratory sessions are based on modern technologies such as Jupyter Notebooks.

Teaching and Learning Methods: Laboratory sessions (group of 2 students)

Course Policies: Attendance to Lab sessions is mandatory.

T

ASI
Advanced Statistical Inference
5.00

This course focuses on the principles of learning from data and quantification of uncertainty, by complementing and enriching the Introduction to Statistical Learning course. In particular, the course is divided into two main parts that correspond to the supervised and unsupervised learning paradigms. The presentation of the material follows a common thread based on the probabilistic data modeling approach, so that many classical algorithms, such as least squares and k-means, can be seen as special cases of inference problems for more general probabilistic models. Taking a probabilistic view also allows the course to define and devise inference algorithms for a class of nonparametric models that have close connections with neural networks and support vector machines. Similarly to the Introduction to Statistical Learning course, the focus of the course is not on the algorithmic background of the methods, but rather on their mathematical and statistical foundations. This advanced course is complemented by several exercise sessions to guide students through the design and validation of the methods developed during the lectures.

The expected learning outcomes for students following this course are :

Learn the principles of prababilistic machine learning
Acquire familiarity with mathematical and algebraic techniques needed to train probabilistic machine learning models
Acquire familiarity with software packages to set up analyses of probabilistic machine learning algorithms
Learn and apply techniques to design probabilistic supervised and unsupervised machine learning algorithms
Apply machine learning algorithms in a variety of practical use cases, using real-life datasets

Students will develop the following skill set :

Conceive software systems and applications to analyze data using the language of probabilities
Critical thinking and statistical validation of data analysis results

Fundamental in Business, Innovation and Project Management (II)
5

G

Business
Business Simulation
5.00

Through the use of a complex interactive business simulation in which teams manage virtual companies in a high-tech business arena, students will gain practical insights into the realities of running a business. Unlike single subject courses, this simulation requires to students to make decisions within the context of interacting disciplines. Student will also come to understand the interdependence of companies through buy/sell and risk-sharing negotiations within a changing supply chain model.

G

Law
General introduction to law : contracts, setting up a business
3.00

To acquire basic legal knowledge
To have an overview about company set up
To learn about the majors principles of contract law

G

ProjMan
Project management
5.00

In all areas, professional activities are often formalized into Projects. This trend in even stronger and more evident in today's environment, which is increasingly international with off-shoring and which develops new inter-enterprise dependencies with out-tasking and outsourcing. Communication within and outside the enterprise also becomes key. In order to better manage and control those Projects, Enterprises often evolve from a Functional organization to a Matrix organization. The Project Management Profession becomes a key element of the new Enterprise Model. This course aims at introducing the different Project Management concepts and techniques. For the students, it is an opportunity to increase their efficiency when joining a Project Team. This course should also allow an improved understanding of the business aspects, and may trigger some thinking on future career choices.

G

SATT
Sociological Approaches of Telecom Technologies
3.00

Contemporary works in the sociology of Technology offer numerous critics of the classical divide between technical and social features. It has been shown that the success or failure of technical innovations rests on their capacity to integrate various organizational and interactional features. This course aims at providing students with a general background in the sociology of ICTs. The main goal is to gain a better understanding of ICT's uses or resistance to change in firms. Various case studies of ICT's uses and innovations, either in professional or ordinary, mundane contexts, will be discussed. Drawing from those studies, the course presents an array of methods of methods for qualitative data collection and analysis.
| Language | 1 |
| --- | --- |
| (French, or another language if the student is already fluent in French) | |
SEMESTER 3 FALL (OCTOBER-JANUARY)
Applications (II)
15

T

ADST
Advanced Data Science Topics
3.00

In this course, we will discuss contemporary and state of the art research problems in Data Science. The content of the course will change from year to year and will reflect the current research interests of the EURECOM faculty. The course is organised partly in Seminars/Case Studies sessions supported by industrials and researchers working in the field and a Mini Scientific Conference where each student will research and present a topic from the wide range of advanced data science topics.

Teaching and Learning Methods : academic and industrial seminars, case studies in small group, written and oral presentation.

Course Policies : Attendance to all sessions is mandatory.

T

CompArch
Computer architecture
5.00

This course presents the architecture of microprocessor-based systems, from the internals of the processors themselves to the main peripherals that surround them and make a complete computing machine, capable of running operating systems like GNU/Linux, Android, Windows, iOS...

Teaching and Learning Methods : Lectures, team-work, lab sessions, mini-conferences by industrials

Course Policies : Attendance to the lab sessions and the mini-conferences is mandatory

T

ImCod
Image Coding
3.00

Because multimedia data (in particular image and video) require efficient compression techniques in order to be stored and delivered, image and video compression is a crucial element of an effective communication system.

This course covers the most popular lossless and lossy formats, introduces the key techniques used in source coding, as well as appropriate objective/subjective metrics for visual quality evaluation.

Teaching and Learning Methods:

Each class includes a problem session for students to practice the material learned.

This course includes a limited number of lab session hours.

Course Policies: It is mandatory to attend lab. sessions.

T

ImProc
Digital Image Processing
3.00

The course aims at providing students with a basic knowledge and practice about the use of computer algorithms to perform image processing on digital images. The two main objectives attached to Digital Image Processing (DIP) are to improve the visual quality of images and to automatically extract semantic information from visual data (e.g. object recognition).

Teaching and Learning Methods: Each session is split into two parts: 1.5-hour lecture and 1.5-hour lab.

Course Policies: It is mandatory to attend lab. sessions.

T

InfoTheo
Information theory
5.00

Since 1948, the year of publication of Shannon's landmark paper "A mathematical theory of communications", Information theory has paved the ground for the most important developments of today's information/communication world making it perhaps the most important theoretical tool to understand the fundamentals of information technologies.
Information theory studies the ultimate theoretical limits of source coding and data compression, of channel coding and reliable communications via channels, and provides the guidelines for the development of practical signal-processing and coding algorithms.
This course covers Information theory at an introductory level.
The practical implications of theoretical results presented are put in evidence through examples.
Various perspectives are given to understand every single theoretical results from a intuitive point of view, regardless of your background or study track.

Teaching and Learning Methods : Lectures, Exercise and Lab sessions (group of 2 students)

Course Policies : Attendance to Lab session is mandatory (25% of final grade).

T

MMIR
Multimedia indexing and retrieval
3.00

While search engines such as Google are extremely efficient for huge databases of text documents, searching for image and video information is still a research challenge.
The objective of this course is to study some of the problems and techniques that are involved in the construction of multimedia search engines.

T

MobServ
Mobile application and services
5.00

This course presents the three main mobile platforms and their ecosystems, namely Android, iOS, and PhoneGap/WebOS. It explores emerging technologies and tools used to design and implement feature-rich mobile applications for smartphones and tablets taking into account both the technical constraints relative to storage capacity, processing capacity, display screen, communication interfaces, and the user interface, context and profile.

Teaching and Learning Methods : Lectures, Lab sessions (group of 2 students), and a challenge project ( group of up 2 4 students).

Course Policies : Attendance to Lab session is mandatory.




T

NetEcon
Network Economics
3.00

Economics and incentives consideration govern in large part the development and actual performance of networks and digital services. The objective of this course is to raise awareness of students on these questions and how to solve them. More specifically:

- The course will introduce a number of topics in economic analysis of networks and network-related services (web, security, etc.).

- The basic method used will be game theory. The basics of game theory will be assumed to be known and the course will focus on applications to network economics.

- The main goal is to show how mathematical methods based on game theory are used to analyze economics problems in networks, with a focus on modern research topics in network economics.

- To complement the theoretical notions presented, the course will present practical (software) aspects of implementing new pricing models using as an example the software solution SAP Billing and Revenue Innovation Management (BRIM), thanks to the participation of an external expert from SAP.

T

OS
Operating systems
5.00

Would you like to investigate beyond the surface of Windows, MacOS, Linux, Android? Fed up with not understanding the origin of segmentation faults, why you need to eject a USB key before physically removing it, or why/how your Android system can execute Pokemon Go and Facebook at the same time? You want to delve into the details of the inner workings of the Linux kernel? Join us to discover the power of Operating Systems!

Teaching and Learning Methods : Lectures (40%), Lab sessions (40%), Project (20%)

Course Policies : Attendance to some lab and project session is mandatory

T

SecCom
Secure communications
5.00

This course provides a broad introduction to cryptography and communication security mechanisms based on cryptography. The course covers fundamental aspects such as security evaluation criteria and the mathematical constructs underlying cryptographic primitives as well as applied aspects like the design of major encryption and hashing algorithms, details of security mechanisms relying on cryptography such as data encryption, integrity, digital signature, authentication, key management, and public-key infrastructures.

T

SoftDev
Software development methodologies
5.00

The course aims at providing students with a common knowledge about the concepts of programming and software development in a Unix-like environment. In particular, the course will focus on practical techniques of program development for small-scale projects produced by individuals or small groups.

T

Stat
Statistical data analysis
3.00

The goal of the course is to provide students with simple and efficient statistical methods to analyze data. Such methods are of crucial importance in many situations as they allow to answer questions such as: 'Is this performance improvement significant?', 'What is the uncertainty on that result?', 'How can I predict a new output of my system based on measurements?', 'Which factors have a significant impact on the performance of my system?', and many more.
Mathematical analysis underlying the presented methods will be sketched, but the main focus will be on the understanding of the methods and the situations in which they can be used (which method to use, what to expect, etc.).
The course will present generic methods working for data from any application and not a specific domain of application. Examples will be given in different areas (computer networks, engineering, etc.).

T

SysSec
System and Network Security
5.00

Internet security has become part of everyday life where security problems impact practical aspects of our lives. Even though there is a considerable corpus of knowledge about tools and techniques to protect networks, information about what are the actual vulnerabilities and how they are exploited is often not well understood. The course aims to make the students gain a basic understanding about real world security issues and countermeasures. Another of the goals of this course is to teach students to think as an attacker, this state of mind will later help to design secure systems and avoid common pitfalls.
The course introduces the students to all the basic concepts of system security in the areas of host, network, and web security. The class has a very practical spin. A number of challenge-like homework assignment are used to force the student to practice on the low level aspects of the concept presented during the lectures. Therefore, prior experience in basic programming (C) as well as knowledge of basic concepts in operating systems and networks is recommended.
The following topics are covered in this course:
Windows and Unix Security Basics
Race Conditions
Memory Corruption, Exploitation and Modern Countermeasures
Trusted Computing
Web Security
Wireless Security
Network Security
Testing for Security
Smartphones Security
Introduction to Malware

T

WebInt
Interaction Design and Development of Modern Web Applications
3.00

Human's computer interaction (HCI) is the study of interaction between people (users) and computers. It is often regarded as the intersection of computer science, behavioural sciences, design and several other fields of study.
In this course, we will focus on designing and evaluating interfaces for interacting with multimedia data on the web.
The main goal of this course is therefore to teach students how to sketch and build novel interactive systems without intensive programming and engineering knowledge, using simple tools, few trick and lots of imagination.

Fundamental in Business, Innovation and Project Management (III)
5

G

Entrep
Entrepreneurship and Capital-Venture
3.00

This course is designed to familiarize students with the practices and underlying issues surrounding the creation of new economic activity (with or without the founding of new firms) and with the funding of such initiatives. This involves learning about the key decisions to be made by the entrepreneur and about her/his relationship with potential financiers of new ventures.

Teaching and Learning Methods: Lectures and class discussions based on articles or book excerpts.

Course Policies: Attendance at all Lecture and Tutorial sessions is mandatory.

G

GreenIT
Sustainable ICT's
3.00

This course provides an overview of the field of Sustainable Development as a way to address technology in its interconnection with environmental, social and political factors, in order to help students to be aware of the non-technical dimensions of innovation. It focuses on Green IT (that's ICTs designed or used to reduce the negative effects of human activities on the environment) and eco-design and provides some key concepts and tools related to Responsible innovation.

Teaching and Learning Methods:

The course has a participatory organization involving students in the classroom as well as at home. It comprises two film screenings followed by class discussions and in-class group work, and five teaching sessions. These sessions are held by guest lecturers (external experts from industry, research, consulting and public policy sphere) and followed by knowledge tests performed at the end of the class. At home, students are expected to work on weekly assignments (2-page reviews or reportsbased on readings or Web research).

Course Policies :Class presence is mandatory and attendance is taken at all sessions. Participation points are given to encourage students' active class participation and discussion.

G

Innov
Innovation & new product development
3.00

This course is designed to explain what innovation is, what are the forms and types of innovation and how works the process issuing to generation of improved or new products. It explores the frameworks and the models implied from creativity and research stimulation to development, industrialization and access to the market.

Teaching and learning methods

Mix of lectures, group works and discussions.

G

ManagIntro
Introduction to management
5.00

Most graduates aspire to enter management ; other find management thrust upon them. This course will introduce participants to the role and practice of management from the perspective of the new manager. Through lectures, exercises and case studies, participants will understand and experience some of what it is to be a manager today.

G

Property
Intellectual property law
3.00

This course provides a solid introduction to intellectual property law from a managerial and strategic perspective taking an international and comparative approach.

The course is the study of how companies protect innovations in order to create value for the company

Teaching and Learning Methods : Lectures and cases sessions (group of 4 students)

Course Policies : Attendance to Lab session is mandatory.

G

TeamLead
Personal Development and Team Leadership
5.00

The overall aim of the program is to enable the student to achieve their potential and increase the performance of both themselves and their team members, both now and in the future. The objectives are to gain the essential awareness and skills necessary to fulfil responsibilities as a member of a team and potential team leader. By the end of the program the participant will: Become more aware of personality types, peoples? preferences, needs, motivations, and strengths Understand you own preferences & needs, and develop multi-step career/life goals Appreciate cultural diversity within teams; understand the role of a team member and team leader Have received a range of tools to help the participant to perform well within a team, and in their life Get a bigger picture of how organizations and people learn and develop Develop a career/life plan that combines your strengths, needs, to create credibility to achieve goals
| Language | 1 |
| --- | --- |
| (French, or another language if the student is already fluent in French) | |
SEMESTER 4 SPRING (FEBRUARY-AUGUST)
RESEARCH / INDUSTRIAL INTERNSHIP

The internship is to be carried out in a company or lab in France or abroad. Students work on a research/development project under the supervision of a professor and an industrial mentor.

Students are integrated as part of the staff and receive a monthly allowance, the amount of the allowance depends on the company and position.

EURECOM provides students with an updated database of paid internship opportunities offered by companies allowing them to use this software to directly send their application to companies.

30 ECTS
Presentation of Master's degrees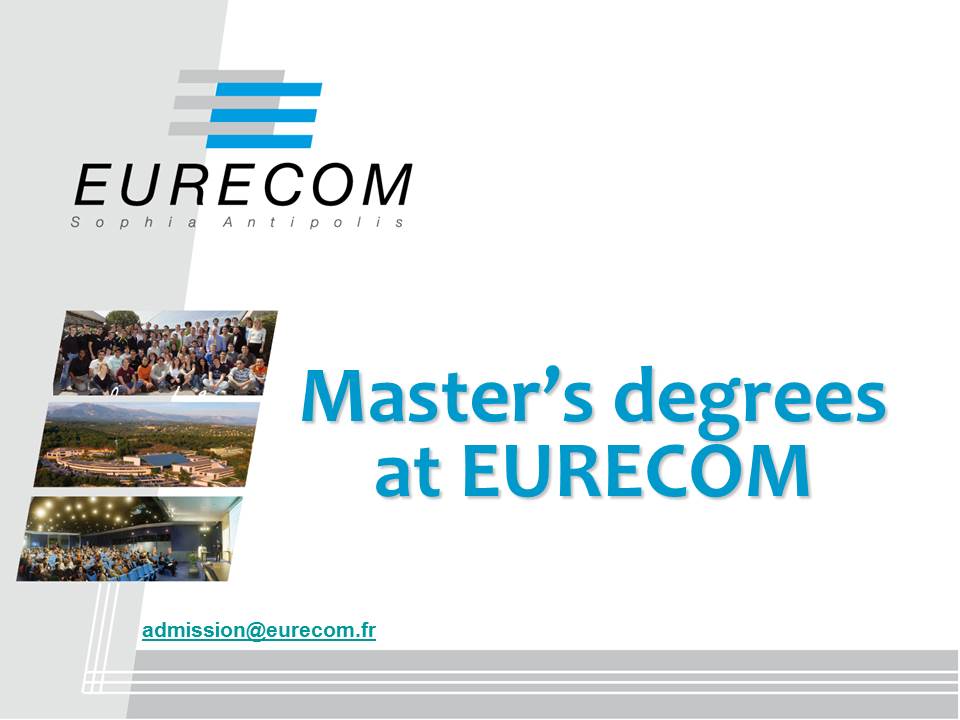 ​TUITION FEES / SCHOLARSHIPS
HIGHLIGHTS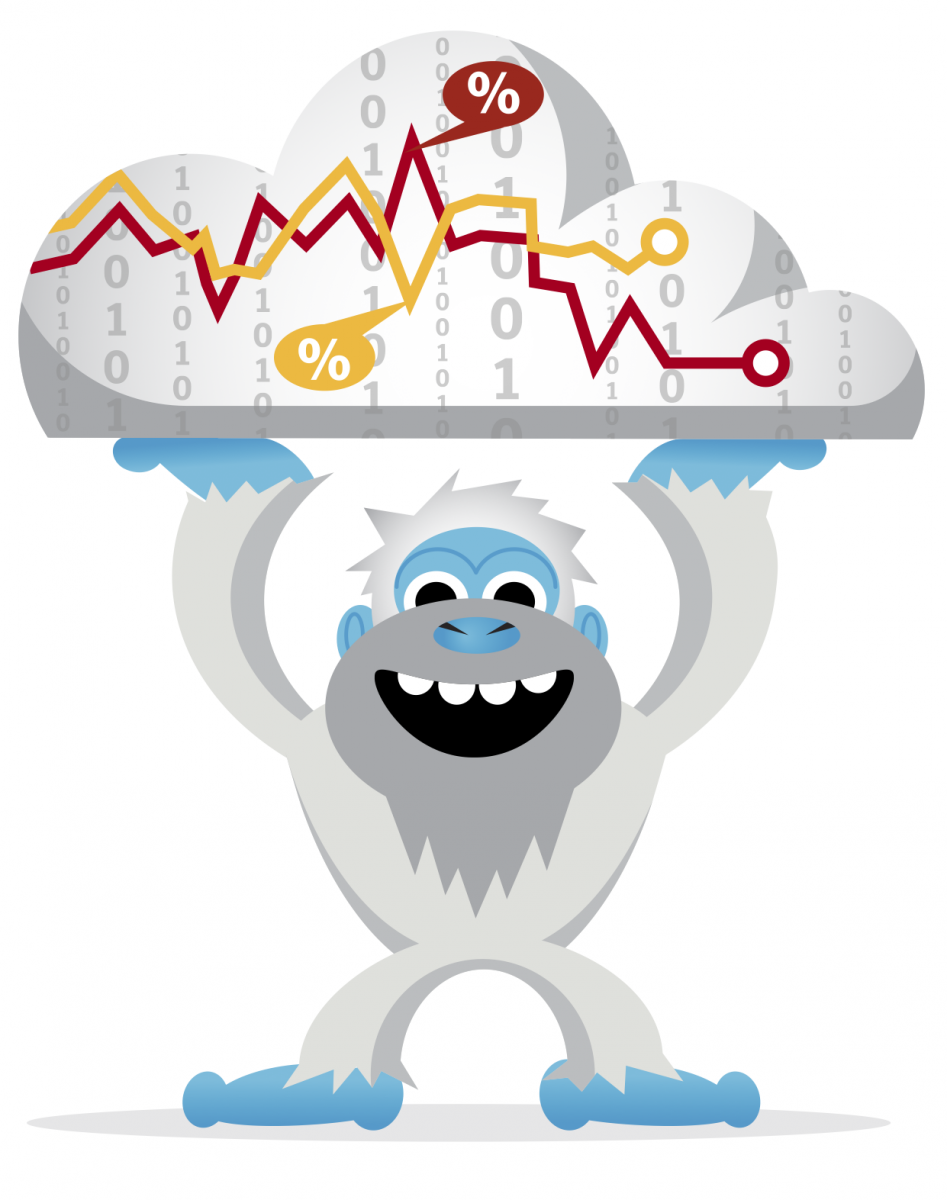 CONTACT
Master's Academic Coordinator
International Relations and Admission Manager
admission [at] eurecom [dot] fr (subject: International%20Master%20in%20Multimedia%20Information%20Technologies) (Send an email)