International master's degree
INTRODUCTION
TelecomParistech / EURECOM MASTER's programs are nationally accredited (National Master's Degree in Science and Technology) by the French Ministry of National Education and Research.
These programmes have received the prestigious ParisTech label, which guarantees a high level of academic quality and relevance to market needs (ParisTech: Paris Institute of Technology, is a consortium that brings together twelve of the most prestigious French Grandes Écoles in Engineering and Management).
Research-oriented students may apply for Doctoral studies after completion of the Program. Since 2006, more than 140 students from 27 nationalities have been enrolled in these programs, with very good career outcomes after graduation.
ORGANISATION OF THE PROGRAM
Requirements: a Bachelor's degree or a degree equivalent to 4 years of higher education in a relevant discipline.
Please note that students with a completed Master's degree can also consider applying to our Post Master's degree (more information).
Three semesters: two academic semesters from October to June and one professional paid internship in a company or research laboratory, depending on whether or not the student wishes to go on to do a Phd, from July to December).
Please note that intensive French classes will be provided in September before the start of the program to help students adapt to their new French environnement.
Content and organisation of the curriculum:
The curriculum is made of lectures, seminars, exercices of practical application, personally supervised projects, teamworks and a professional internship in a company.
It combines both technical courses and "non technical courses" (soft skills such as management, project management) to develop double competence essential for future top positions.
Academic Regulations: please find the link to access to the academic regulations

Language: the curriculum is entirely taught in English.
Intensive French classes will be delivered before the start of the program and throughout the academic year.
COURSES DESCRIPTION
APPLICATION
The Admission Board will meet monthly from February to June 2014. We organise 4 admission sessions for Master ICT applications. Please make sure that the application documents sent by post reach us by the deadlines specified below.
The last application deadline is on June 9, 2014.
The sonner students apply, the easier it will be to help them prepare their stay in France and most scholarship deadlines are before the end of March.
Application deadline

Session 1 : 17 Feb 2014
Session 2 : 24 March 2014
Session 3 : 28 April 2014
Session 4 : 9 June 2014
APPLICATION PROCESS
STEP 1: Fill the online form and send by post the required documents to the following address: (list of documents)
Please make sure that the hard copies of the documents sent by post, reach us by the deadlines indicated above if you want your application to be considered for a specific session. For each admission session, the Admission Board will only be able to assess applications received on time.
EURECOM
International Master's degree Admissions
Campus SophiaTech
450 Route des Chappes
06410 BIOT SOPHIA ANTIPOLIS FRANCE
STEP 2: Selection and admission
Candidates will be informed of the Admission Board decision within the month following each application deadline mentioned above. All applications will be examined by fixed dates.
STEP 3. Confirmation of admission
Selected students then have to confirm their admission by paying a 1000€ deposit within one month of the notification of acceptance. The deposit will be deducted from the overall tuition fees.
STEP 4. A final registration letter is sent by post to the applicant upon reception of the deposit.
MAIN ASSETS OF THE PROGRAM
Unparalleled location:
EURECOM is located at the heart of the science park SOPHIA-ANTIPOLIS, considered a major European region for telecommunications research and development. SOPHIA ANTIPOLIS bring together many prominent international companies and institutions; AMADEUS, IBM, HP, CISCO, ETSI, THALES, SYMANTEC..) and thus provides inernships and employment opportunities for our graduates (more info).
EURECOM also enjoys a wonderful location on the French Rivieria (between Nice and Cannes), 300 days of sun per year, 30min from the beaches and 1h00 from the mountains, ideal for sport lovers and a pleasant climate.
Powerful professional network :
Thanks its unique Consortium format (or "Groupement d'intérêt économique"), EURECOM is working tightly with world-renowned universities and companies (Telecom Paristech, TU Munich, BMW, SYMANTEC...) which are heavily involved in its research and teaching. EURECOM has also established a synergy with the local industrial environment in SOPHIA ANTIPOLIS on advanced research topics. Our alumni have an impressive track record of success in the global careers market and constitutes a network of precious contacts for future graduates.
Academic Excellence:
Students are supervised by an international faculty of renowned researchers (Professors from 13 nationalities, IEEE fellows, 288 publications/year, average H-Number of 20 up to 26...). Their courses benefit from the latest advances in research (half of EURECOM's budget is drawn from industrial and European research contracts).
During their master' studies, students will have access to cutting edge technological platforms within EURECOM's Wireless Communication Laboratory (OPENAIRINTERFACE).
International environment
EURECOM offers a unique international environnement with more than 65% of foreign students (from 25 nationalities); 70% of foreign professors and a curriculum totally taught in English. Students are strongly encouraged to work on projects in multicultural groups to learn how to look at and solve problems in a different way. They develop precious intercultural competences which will help them adapt to multinational companies.
Cutting-edge professional experience
The program includes a paid 6-month internship in a company, under supervision of a professor. The internship providesa cutting edge professional experience and enhance competitiveness on the labour market upon graduation. EURECOM has an impressive record of national and international internship opportunities in leading companies.
Personal Assistance and professors' availibility
Students benefit from personnal assistance in all administrative issues at all stages of their studies thanks to a very dedicated and always available staff.
EURECOM's human size scale allows for a greater availibility of our professors, who can easily be approached by the students to advise them during their studies. We have a very good professor/student ratio (average of 9 students per professor)
Relevant Career Outcomes:
EURECOM provides all the tools to facilitate entry in the labour market (apart from the professional internship, students attend workshops on how to conduct interview and write an efficient CV.
Each year, they take part in France's biggest Telecommunication job forum in Paris: Forum des Télécommunications (more than a hundred companies in 2013).
International Masters offer very good professional opportunities both in France and beyond. Our graduates are now working for leading international companies at top positions. You can find here a document with the current countries and employers of our Master's graduates.
TUITION FEES
Tuition fees for the whole program (pre-academic intensive French + 3 semesters, 16 months):
11 000 Euros

8 800 Euros for students from partner universities.

3 300 Euros for students fom the European Union and Erasmus-zone countries.

Please note that the third semester of the program is a 6-month paid internship in a company or a research lab. Students will receive a monthly financial allowance enabling them to cover a substantial part of their costs (It is legally compulsory in France to grant interns a monthly financial allowance).

It is not advised to count on a part-time job in France to cover part of the costs. It may be very hard to find such job and the master' studies require full time dedication. Working while studying can be very detrimental.
At the student's request, payment in several installments is possible following EURECOM's Regulations. A deposit of 1000€ is to be paid before arrival to confirm admission.
SCHOLARSHIPS
The "Fondation Telecom", which brings together sponsor companies, grants scholarships each year to the best students admitted to our Master's programs. The number of scholarships is limited and varies each year depending on the sponsors' donations to the foundation. Only the applications of the best students with outstanding academic records are submitted to the Fondation Télécom.

Partial tuition fees waivers. Each year, there is a limited number of partial tuition fee waivers granted to the best applicants with an excellent academic background and strong motivation.

Please be aware that the EIFFEL scholarships ONLY target students who are admitted for a double master's degree in the framework of an academic agreement between TélécomParistech/EURECOM and their university partners (the duration of studies in France are 2 years). It means students who apply to the International Master are not eligible to this scholarship.

If you wish to apply for a scholarship or tuition fee waiver, please mention it in the FINANCIAL STATEMENT required in the application package.
=================================
French embassies, foreign governments and international institutions may also grant scholarships, for more information please refer to:
* the CampusBourses search engine
* the Scholarshipportal engine
Labex Scholarships
The Laboratory of Excellence LABEX UCN@SOPHIA provides scholarships to highly ranked students wishing to pursue studies at Phd level after their Master' studies.
The criteria to apply to this program, students must:
* have excellent academic records
* be graduate from a foreign university
* be willing to study a topic covered by the Labex UCN@Sophia's current research
* be willing to do their internship in one of the LABEX 's research teams
* be willing to pursue in Phd studies afterwards.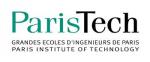 ADMISSION
INFORMATION
CONTACT
International Relations and Admission Manager
hanras [at] eurecom [dot] fr (Send an email)
TESTIMONY

The year in EURECOM with those friends would be my best memory in my life. As to the Quality of Teaching, I would like to say : I've learnt much from it. The course arrangement in EURECOM, personally, I think they are integrated and combined with each other very well, I mean, it's systematic. I am Master of Security Communication; the courses I chose are practical in my internship and help me build a good foundation. Of course, considering the complex and rapidly changing world, the more practical projects and experiments there are, the better it would be. Everything is so great. One of the hardest things in life is having words in you heart that you can't utter, which exactly express my feeling about my brilliant life in EURECOM !
SUI FAN,
Class of 2009